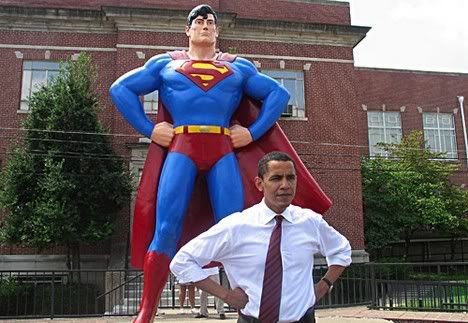 Obama as seen by America?
Obama and Granma
Not since the days of Woodrow Wilson's presidency have chickens been welcome guests and pets of the sitting president at 1600 Pennsylvania Avenue. But that could quickly change come next January when the next president of the United States is sworn in…should Barack Obama become that next president.
Obama's grandmother, Sarah Onyango Obama, "Mama Sarah," currently lives among the mango and mimosa trees in a somewhat austere cinderblock home in Kenya, Africa, where she spends time tending to her chickens.
In a recent interview with the BBC, Mama Sarah, who does not speak English and who taught herself to read, noted that her grandson visited Kenya last year "but was too busy to spend much time with her." (Is that anyway to treat your "granny" Barack?)
So it would not be unthinkable to assume that Mama Sarah might prefer the comfort of the Lincoln bedroom to her simple surroundings in Kenya should her grandson win the election in November. Afterall, I'm sure "President Obama" would be happy to have a few extra secret service agents assigned to the White House to help Mama Sarah tend to her beloved chickens. How could the most powerful man in the world disappoint his own grandmother?
Not since the days of Jimmy Carter and the rest of the Carter clan lived there would the White House become so quaint and "down on the farm." (Who can forget sweet little Amy Carter rollerskating in the White House bowling alley, carving up the wooden floor?)
Don't get me wrong, I love chickens. Especially fried. And in fact, I grew up being awakened by the sound a rooster crowing early each morning and miss it still today. I am confident Barack wouldn't mind a morning wake up call from the official White House alarm cluck, er, um, clock.
But with the delegate counts being so close at this point and time of the campaign, it wouldn't be wise to count those chickens before they hatch—or arrive at the White House.
So for now, we'll just have to wait to see if it's dogs out and chickens in on the pet front come next January at the most famous residence in the entire world. And if it is, once and for all we'll know the answer to that famous question, "Why did the chicken cross the road?" To get to the White House.