Ahhhh yes,
BTW, there is a rumor that the Bushes plan to retire to the
United Arab Emirates
(
UAE
), This would give Laura a chnace for a new career in Islamofeminism and put GWB close to his financial interests in Arabia.
The Emirates are trying to evolve into a rival magnet for wealthy people form all over the world. On state, Dhubai, is building a branch of the Louvre!
If they do move, the Emirates would give the Bushes eight states to choose from:
Abu Dhabi
,
Ajman
,
Bidet, Dubai
,
Fujairah
,
Ras
al-Khaimah
,
Sharjah
, and
Umm al-Quwain
.
Bidet may be the choice, Bidet, long famous for its dates* is among the most European of the Emirates and is often compared to Paris in the sophisticated style of life, at least in the privacy of people's homes. The statelet is rich in oil and, although it lacks other natural resources, it expects recent additional economic diversification to draw more financial and banking firms.The country has a relatively high Human Development Index for the Asian continent. Bidet also offers branches of most Swiss bank accounts and is not party to any extradition treaties.

George is said to be having a hard time convincing Laura, bit the Emirate has offered to build a local branch of the GW Bush Library with a housing compound modelled after the Crawford Ranch (see map). Of course there are also huge financial advantages:

NPR : Halliburton Opening a Headquarters in Dubai: "Halliburton is... relocating its CEO and some executives from Houston to be closer to its customer base. ... Why Dubai? First of all, this is where the oil is, and the gas. . ... There's not much oil left in North America, .... The ... Chinese are here, pouring money in, ? We describe it as Las Vegas on steroids. ...It's got huge shopping malls, lots of golf. ... indoor skiing here. There's a great beach. Lots of Westerners are moving here to buy homes. So it's a very comfortable place — if you're a big executive in the states, you'd feel right at home here. And ....there are no corporate taxes, as far as I know, and no taxes on employees either in Dubai, as long as you're in one of their investment zones."
The Emir, Mubarak ibn Umar, has announced that the Bush ranch will be built in a new investment zone, patterned after those in Dubai and called "New Crawford," in honor of Mr. Bush (see map). There is a rumor that Mr. Cheney is also considering buying property in the Budet Investment Zone (BIZ) when he resumes a management role at Halliburton, Ltd.,UAE.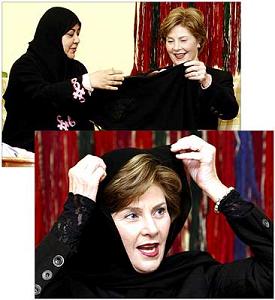 *Ibn Umar, radiya ALLAHu anhuma, (may ALLAH be pleased with them) narrates that the Prophet, salla ALLAHu alaihi wa sallam, asked: There is a tree whose leaves do not shed and it is similar to a Muslim, so tell me about it. We were silent and I thought it was the date palm but I was to shy too speak, so we said, Tell us what it is. He, salla ALLAHu alaihi wa sallam, said: It is the date palm. (Reported by Al-Bukhari)